POSITION. DIRECTION.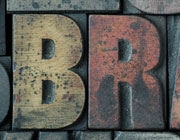 A Distinctive & Compelling Vision for the Brand.  Successful brand management starts with an insightful brand positioning statement; everything else builds off that carefully crafted platform. Our approach to brand positioning blends consumer-driven insights about the brand with brand-management aspirations for growth to generate a broad, solid platform for sustained brand development.
A key feature of any successful brand development program is the launch of successful new products. We have a time-tested approach to new product development that is grounded on innovative research to identify optimal features sets, enhance appeal and promote original product design.
Finally, private label brands offer a unique opportunity to create a compelling "reason to shop" a specific retail outlet. We have extensive experience with naming, packaging, logo development and marketing strategies for both B2C and B2B private label products and services.
Our program for brand positioning and new products is described here…
Focus First on the Message.  Maintaining a distinctive and compelling voice, while navigating across a fractured media landscape, is a continuing challenge. The trick is to make sure you are heading in the right direction at the outset, and that's where we come in. We offer assistance at three critical stages in the development and implementation of a marketing communications program:
The development of an insightful communications strategy: what to emphasize with your target audience.
The identification of effective and appealing creative properties: how best to frame and present your message.
The design and implementation of a research program to monitor the impact of your communications initiative: measuring how clearly the message is being heard.
Click here for more information…
Great Design Creates Demand.  Great design provides an elegant solution to the task it addresses. It effortlessly, artfully communicates its purpose, its features and their functionality. And in doing so, it enhances the value of the product and the brand it carries.
For over 15 years we have provided innovative support services that seek to inspire great design and to nurture its success. As part of this effort, we have developed research techniques that are specifically tailored for each stage of the design process:
From the crafting of design objectives,
To the assessment of design options,
To the framing of a compelling marketing program that builds directly on the strengths of a great design.
We celebrate great design and have made Design Support Services one of the central pillars of our consulting practice. Learn more here…