It's the season for New Year's Resolutions: exercising, losing weight, saving money and getting organized top the list for most people. But for many others, learning a foreign language, or improving an existing (though potentially languishing) foreign language skill, is also a top consideration – somewhere between numbers 6 and 24 depending on the published list.
I studied French in college and was fortunate to spend three and a half years working for an international organization in Paris just after obtaining my bachelor's degree. When I returned to the United States to start graduate school, I felt perfectly comfortable speaking in either French or English. Over time, however, I discovered that it's difficult to maintain that proficiency while living and working in an exclusively English-language environment: there's not much demand for French in a Midwest advertising agency totally focused on domestic clients. Several years ago, after a particularly frustrating business trip to Paris, I realized that I needed to work on my badly eroded command of the language.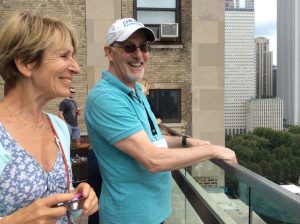 Chicago welcomes nearly 54 million tourists a year. While the vast majority of these guests are domestic travelers visiting Chicago for a convention, a training event, a wedding or a weekend shopping spree, a large (and growing!) number of Chicago's tourists fly in from Europe, Asia and South America. They come to spend a week or so to explore the museums, to enjoy the blues and jazz clubs and to dine in our growing number great restaurants. Many also want to learn about the city's rich history and to see its architectural treasures up close – and the Chicago Greeter, a volunteer organization, is here to show them the sites. Chicago Greeter is part of Choose Chicago, the city's tourism promotion bureau, and it offers free guided tours of The Loop, the city's major parks and 25 neighborhoods – in 10 different languages – provided by volunteer Greeters. A typical Greeter walking tour lasts 3 to 4 hours and a guest can choose from nearly 40 different topics to explore during their tour.
Now – consider the opportunity, and not just from the guest's perspective but from that of the tour guide: 4 hours of total language immersion with a motivated and engaged native speaker! There's simply no better way to dramatically ramp up your language skills than to spend an entire morning or afternoon conversing with someone who, by simply chatting and asking questions, will help you to improve your language skills. It's truly a "win-win" exchange for both parties: they get a personal tour of the city and you have 3 to 4 hours of intensive language immersion. Plus, you're outside, away from that keyboard and getting some exercise in the process! Yes, a Greeter may have to brush up on city history, geography, architecture, and public art – themes a curious tourist might be eager to explore. But let's admit that these also are the topics any proud and informed citizen either already knows, or would want to know about, and being able to discuss them in a foreign language just adds to the enjoyment of being a Greeter.
I started volunteering with Chicago Greeter three years ago and my French language skills have improved dramatically, especially this past year when I devoted more time to longer tours. It has been the next best thing to living in a francophone environment and the only cost to me has been the loss of some unproductive spare time.
If you would like to sharpen your foreign language skills, I'm sure that Chicago Greeter, or a Greeter organization in your city, would welcome your participation. But perhaps the idea of walking around the city for 3 to 4 hours doesn't appeal to you. With a little digging I'm sure you can find another organization that is looking for volunteers with language skills, especially in the social services.
Volunteering is a great way to give back to your community and a unique opportunity to improve your foreign language skills. So resolve to improve your foreign language skills this year.
And then volunteer!